Product Description
TaoTao | ATA-125D | ASSEMBLED
Our best seller the TaoTao ATA-125D, 107cc, Kids ATV, Perfect for Kids Sized between 4 to 10, Look at these features, Fully automatic Transmission with Reverse, Auto clutch just gas and go, Front and rear racks, 16" tire, 145 lb. max rider weight, Front drum/Rear Hydraulic disc brakes, Powerful Four-stroke engine, no need to mix oil w/gas, Adjustable Maximuim speed between 10 and 32 mph via an Adjustable throttle limiter screw on the handle bar that limits the amount your child can physicaly push the throttle. Electric start with working high/low beam headlights and brakelight. Built in remote key fob system with remote control kill switch and remote start. Also available in ultra cool Designs in Burgundy, Blue, Black, Green, Army Camo, Tree Camo, Pink Camo, Red Spider, Blue Spider, Black Spider and Pink Spider, which can be chosen from the options menu below.

Affordableatv Atv is proud to announce our new FULLY ASSEMBLED - READY TO RIDE OPTION! Let the pro's assemble your new ATV, it will arrive to your door built right, run tested and ready to ride. The only thing you do is 1. Hook up the battery, 2. Put gas in it and go riding!

Ready to Ride Option Includes The Following:

1. Check Starter Switch

2. Check Kill Switch

3. Check all lights including Head Lights, Low & High Beams, Rear Tail Lights and Brake Lights

4. Check Rear Safety Wrist Strap Kill Switch* *Not on all Models

5. Mount Tires & Wheels and Check Tire Pressure

6. Check (Engine Oil, Transmission Oil, Brake System Fluid,)

7. Adjust Carburetor for proper idle and run speed

8. Check Transmission, Chain Drive, Brakes and Electrical Connections

9. Check Battery and Check the Charging System

10. Check all Remote Control Features including Engine Kill and Alarm

11. Once completed we Custom Package and Ship your ATV Ready to Ride!
Features
The Taotao ATA 125D ATV 107cc, Air Cooled, 4-Stroke, 1-Cylinder, Automatic,- Fully Assembled and Tested
The Kids ATA-125 D 107cc ATV is a great utility four wheeler for boys and girls who are ready to start riding on their own. The engine kill switch, foot brake, speed limiter, and remote control makes the ATA-125 D Tao Tao 107cc ATV a safe option for kids who are building up their experience in the driver's seat.
Extras like the double racks, front headlight, and reverse control make ATA-125 D 107cc four wheelers for kids more functional for everyday riding.
Get Free Shipping & a Warranty on Your ATA-125 D 107cc Kids ATV - Fully Assembled and Tested
Don't spend more on a kids ATV than you have to. The ATA-125 D 107cc kids ATVs for sale at Affordableatv Atv are offered at unbeatable prices, and come with money-saving extras like FREE shipping and no tax if you live outside of Texas. We'll even price match if you find a dealer selling a kids ATA-125 D 107cc ATV for less.
When you shop at Affordableatv Atv you can rest assured that you are buying from professionals. We're a licensed dealer with years of experience selling motorized toys for people of all ages. We're so confident in the products we sell that we include a 1-year engine warranty with every purchase!
Other Details
Technical Specs
ATA125D

Engine:

Engine Type:
107CC,Air cooled, 4-stroke, 1-cylinder, automatic
Start Type:
Electric
Transmission:
Chain Drive
Engine Gear:
D-N-R
Shift Gear:
Hand
Max Torque:


Max Speed:



Distance from foot rest to top of seat:

Foot Rest Length:

6.5N.m/5000-5500r/min

35+ (Depending on Riders Weight and Road Conditions)

15.75"

11.81"
Wheelbase(inch):
33.27
Ignition:
CDI
Fuel Capacity(L):
4.2

Chassis:

Front Hand Brake:
Drum
Rear Foot Brake:
Hydraulic Disc
Tire Front:
16x8-7
Tire Rear:
16x8-7
Suspension Front(inch):
10.8
Suspension Rear(inch):
11
Remote Control(Yes/No):
Yes
Speed Limiter(Yes/No):
Yes
Engine kill switch(Yes/No):
Yes

Dimension:

Battery:
12V/4Ah
G.W.(lbs):
255
N.W.(lbs):
210
Max Loading(lbs):
132
Overall Size(inch):
50x33.5x38
Carton Size(inch):
51.2x30.3x24.5
Seat Height(inch):
24.81
Ground Clearance(inch):
3.55
More Pictures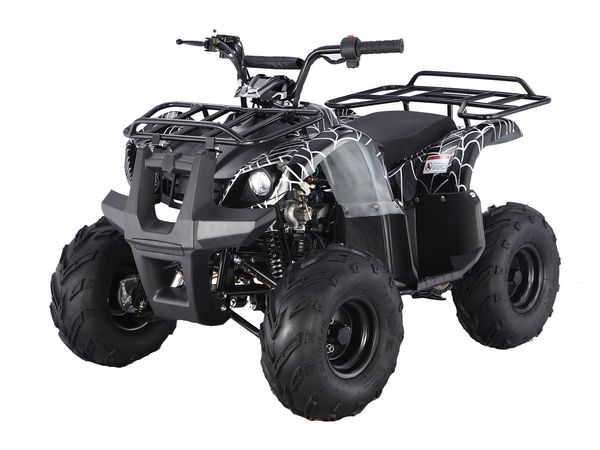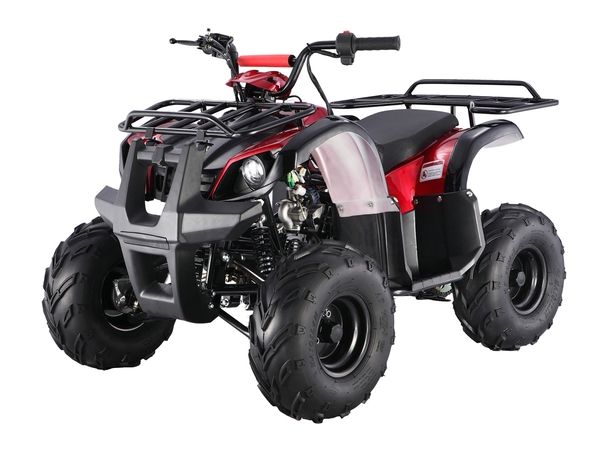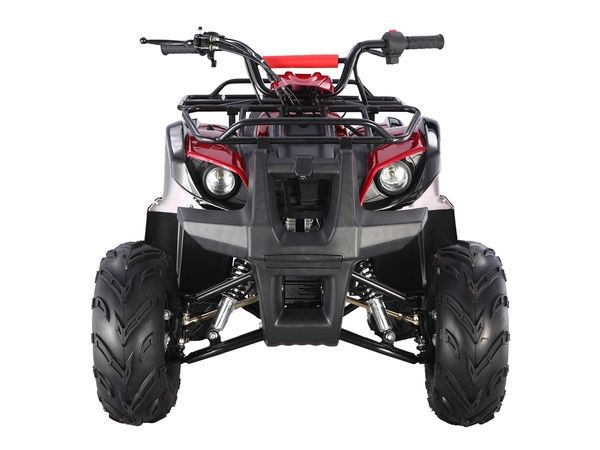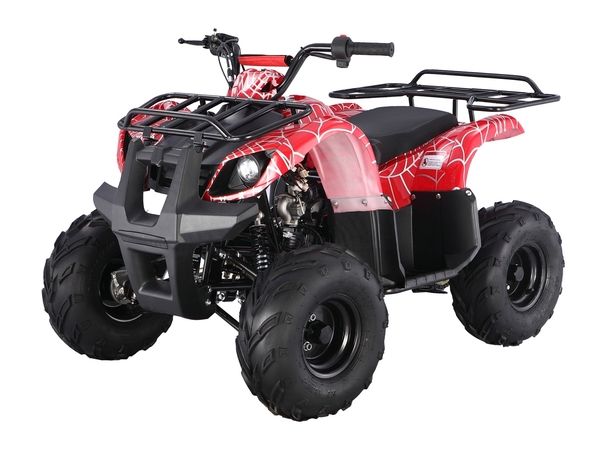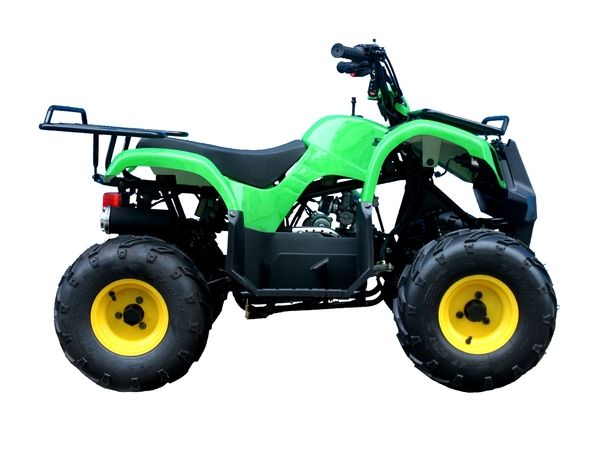 Product Videos
Custom Field
Product Reviews