Product Description
LIMITED STOCK
Delivery:
Since the fully assembled and tested version will be too big to fit on a lift gate the Freight must be picked up at your local terminal
SEE YOUR LOCAL TERMINAL HERE
. PLEASE ALLOW 3 TO 5 BUSINESS DAYS ADDITIONAL PROCESSING TIME.
Assembly Note:
everything will be assembled except the roll bars, roof, and the windshield if applicable.
TrailMaster Blazer4 200X 200CC Family Size 4-Seater Go Kart, 4-Stroke, Single Cylinder, Air Cooled
The TrailMaster Blazer4 200X is another long waited model all new stylish Blazer series! This is a full size 4-seat go kart fits up to 4 adults! It is made of heavy duty frame, net weights 578 lbs with a max load capacity of 800 lbs!

Both front driver and passenger seats are adjustable with driver side pedal to seat back adjustable from 41" to 46", fits driver/passenger up to 6'2 in height; Front seat to rear seat distance is 26 inches, fits passengers up to 6'2 in height! With bigger front / rear tires of 20 x 7-8 / 21 x 10-10 and special gear ratio set up, plenty of power to take off and pull 4 people.
Details View
Features
Key features:
Stylish design

Electric start with kill switch

Fully automatic with reverse, high performance GY6 engine with internal reverse set up

Heavy duty frame, net weight 728 lbs, max load 800 lbs, adult size 4-seat go kart

Front seat to rear seat distance 26 inches, fits passengers up to 6'2 in height

Adjustable front driver and passenger seat: pedal to seat back adjustable from 41" to 46", fits driver/passenger up to 6'2 in height

Digital speedometer/odometer

Aluminum side mirrors

Turn signals

5-Point safety harness seatbelt

Individual sporting seats

Polished stainless steel muffler

Big tires: F / R: 20 x 7-8 / 21 x 10-10

Bikini sunshade top

Adjustable heavy duty front and rear shock absorber

Rack and pinion steering wheel

Front and rear hydraulic disc brake

4-wheel fenders

Trailer hitch

Large gas tank

LED headlight

Horn

Padding over roll cage
Other Details
Technical Specs
Blazer4 150X
Engine Information
EPA and CARB certificated
Engine type: 4-stroke, single cylinder, air cooled
Displacement: 150cc
Max HP: 8.2HP/7500rpm
Max torque: 7 lb ft/6000rpm
Bore x stroke: 2.26 x 2.28 inches
Max speed: 28mph
Climbing ability: 12 degrees
Min. turning radius: 229 inches
Ignition: C.D.I
Starting system: Electric
Battery: 12V 10Ah
Carburetor brand: Deli
Engine oil: SAE 15W/40


General Information
Clutch: Automatic CVT with reverse
Driveline / Driving wheel: Chain / Dual wheel drive
Suspension, F / R: Dual A-arm / swing-arm
Brakes, F / R: Both hydraulic brakes, Disc
Tires, F / R: 20 x 7-8 / 21 x 10-10
Fuel capacity: 2.25 gal
Weight, G.W. / N.W.: 850 lbs/ 728 lbs
Max load: 800 lbs



Dimension Information
Wheelbase: 88 inches
OA L x W x H: 116.1x54.5x55.5 inches
Height to seat, F/R: 17 inches/ 20 inches
Distance from F to R seat: 26 inches
Min ground clearance: 15.8 inches
Pedal to seat back distance: 41-46 inches
More Pictures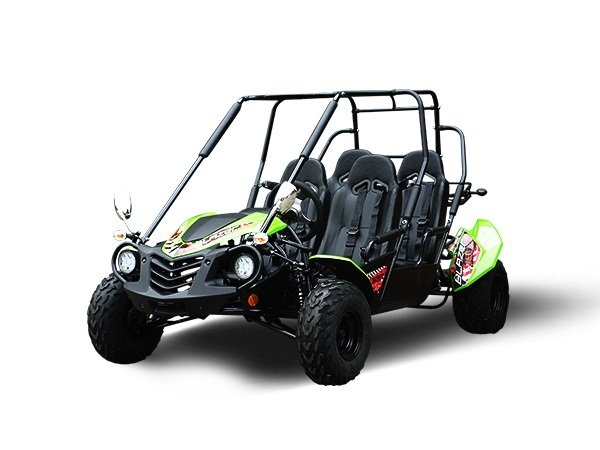 Product Videos
Custom Field
Product Reviews