Trailmaster is one of the best and most reliable UTV brands in the market today. It provides great side by side for your loved ones and family. Thanks to the UTV's large driving cabin and individually adjustable seats, it fits most adults comfortably. In addition, riders can also experiencereverse capabilities and adjustable driving columns. If you are driving in unforgiving weather conditions, the Trailmaster has your back.

The side by side features a sunshade canopy for all-day riding. The UTV features reliability and safety with side protection rails, heavy-duty nylon safety nets and seat harnesses to protect against incoming shocks.

Let's dive into the world of Trailmaster and check what Trailmaster UTVs are available.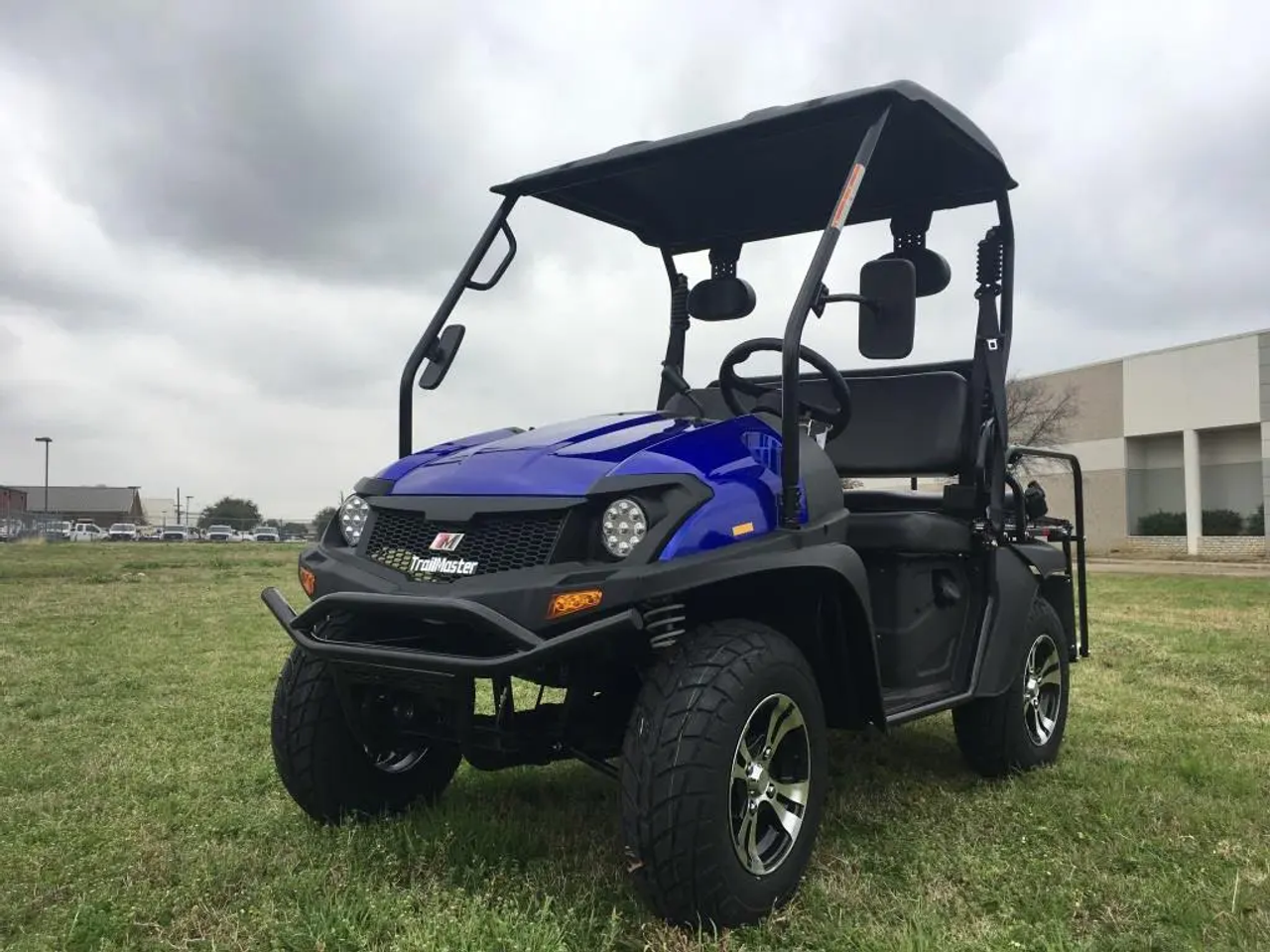 Trailmaster Taurus

Trailmaster UTV has a classic addition of Trailmaster Taurus in its series. The recreational off-road utility vehicle is perfect for those looking for an exciting outdoor experience and can handle a variety of different terrains. It's equipped with utility beds and rear flip seats all interchangeable within minutes.

It's a unique gas golf cart that combines rugged off-road style with modern comfort. It features a steel frame with a single shock absorber suspension system on the front wheel and an adjustable height handler for ultimate control overriding conditions. It comes in 10 different designs and color combinations; hence, you are sure to find the perfect bike for your needs.

The Trailmaster Taurus comes equipped with H/L gear with 40% climbing ability and can climb up to 30-degree slopes with ease. It has an air and oil-cooled performance engine with an internal reverse setup, rear shaft direct drive, reliable power transmission, and high transmission efficiency.

Are you ready for your next trip down a rough terrain? With four-wheel independent suspension, TrailmasterTaurus boasts a great driving experience. The front and rear disc brakes and hardtop make the Trailmaster a perfect fit for all-weather roads, ranch, and farm work. It's fully equipped with a sporting steering wheel, safety harness safety belts, turn signals, and rearview side mirrors. This UTV is the best for all your utility terrain needs.

Trailmaster Challenger

The Trailmaster Challenger is the perfect example for your farm or ranch courtesy taking to its overall functionality and technical feature. It's powered by an air-cooled, single-cylinder, 4-stroke engine to power it through terrains. The vehicle has maximum torque power of 7lbft/600 rpm and a displacement of 169cc. the technical features like electric ignition, the climbing capability of 20-25 degrees, and a maximum speed of 35 mph, make the Trailmaster Challenger ideal for all rough terrains. In addition to high payload capacity, the UTV provides more storage to haul whatever equipment.

So, which UTV dealer to rely upon when sourcing the Trailmaster UTV models?

Well, Affordable ATV has been a power sports expert for years and its amazing collection of UTVs ultimately makes it everyone's go-to store. Affordable ATV offers a diverse collection of automatic UTVs equipped with amazing capabilities and superior technical features. At Affordable ATV, the price range for a new UTV is fairly wide, with models like Apollo, Go Kart, Trailmaster, and more. We offer free standard shipping to most states and 24/7 customer support for a great shopping experience.

Visit us for all your UTV purchase needs.