Product Description
Delivery:
Since the fully assembled and tested version will be too big to fit on a lift gate the Freight must be picked up at your local terminal
SEE YOUR LOCAL TERMINAL HERE
. PLEASE ALLOW 3 TO 5 BUSINESS DAYS ADDITIONAL PROCESSING TIME.
Assembly Note:
everything will be assembled except the roll bars, roof, and the windshield if applicable.
Trail master Blazer4 150CC Big size go kart- Air Cooled, 4-Stroke, 1-Cylinder, Automatic
Now all of your kids can have fun four-wheeling with you on the TrailMaster Blazer4 Kids 150cc go kart from Trail Master. This go kart is a great starter for kids or advance users due to its electric start engine and the additional foot brake that provides added safety. They'll be zipping around and learning how to handle a go kart in no time.
The new TrailMaster Blazer4 150cc go kart comes in a variety of fun designs, cool colors, and metallic colors that both boys and girls will love. It can handle up to 661 pounds, so even parents can come along for the ride.
Details View
Features
The TrailMaster Blazer4 150 is the perfect family size 4-seat go kart with a stylish design. It is made of heavy duty frame and tubing, net weights 500lbs with a max load capacity of 661lbs! You saw it right: 661 lbs!
Gas pedal to seat back is adjustable from 34" to 39", fits driver up to 5'8 in height;
Front seat to rear seat distance is 28 inches, fits passengers up to 6'2 in height;
With all these features, this go kart should be able to fit an average family with 2 adults and 2 teenagers or kids.
Here are some of the key features:
Stylish design

Electric start with kill switch
Fully automatic with reverse, high performance GY6 engine with internal reverse set up
Heavy duty frame, net weight 500 lbs, max load 661 lbs, ultimate family size 4-seat go kart
Front seat to rear seat distance: 28 inches, fits passengers up to 6'2 in height
Adjustable driver seat: pedal to seat back adjustable from 34" to 39", fits driver up to 5'8 in height
5-Point safety harness seatbelt
Individual sporting seats
Polished stainless steel muffler
Big tires: F / R: 19 x 7-8 / 18 x 9.5-7
Bikini sunshade top
Adjustable heavy duty front and rear shock absorber
Rack and pinion steering wheel
Front and rear hydraulic disc brake
4-wheel fenders
Trailer hitch
Large gas tank
LED headlight
Horn
Padding over roll cage
Other Details
Technical Specs
Engine Information
EPA and Calif CARB Legal
Engine type: 4-stroke, single cylinder, air cooled
Displacement: 150cc
Max HP: 8.2HP/7500rpm
Max torque: 7 lb ft/6000rpm
Bore x stroke: 2.26 x 2.28 inches
Climbing ability: 12 degrees
Min turning radius: 229 inches
Ignition: C.D.I
Starting system: Electric
Battery: 12V 10Ah
Engine oil: SAE 15W/40
Clutch: Automatic CVT with reverse
Driveline /Chain Driven / Dual wheel drive
Suspension, F / R: Dual A-arm / swing-arm
Brakes, F / R: Both hydraulic brakes, Disc
Tires, F / R: 19 x 7-8 / 18 x 9.5-7
Fuel capacity: 2.25 gal
Weight, G.W. / N.W.: 650 lbs/ 500 lbs
Max load: 661 lbs
Wheelbase: 88 inches
L x W x H: 112 x 54 x 59 inches
Height to seat, F/R: 29 inches/ 32 inches
Distance from F to R seat: 28 inches
Min ground clearance: 9.87 inches
Pedal to seat back distance: 34-39 inches
Configurations And Specifications Subject To Change Without Notice.
More Pictures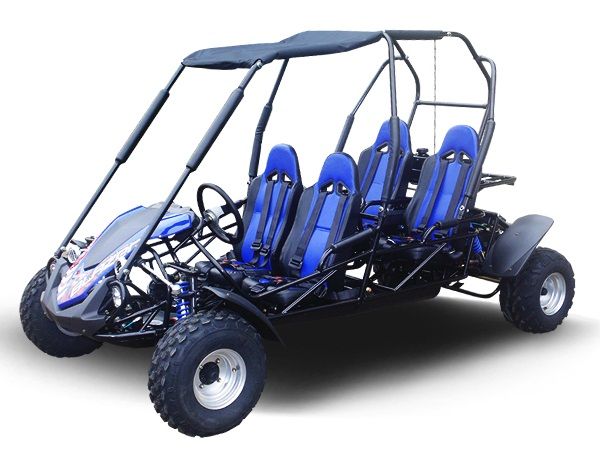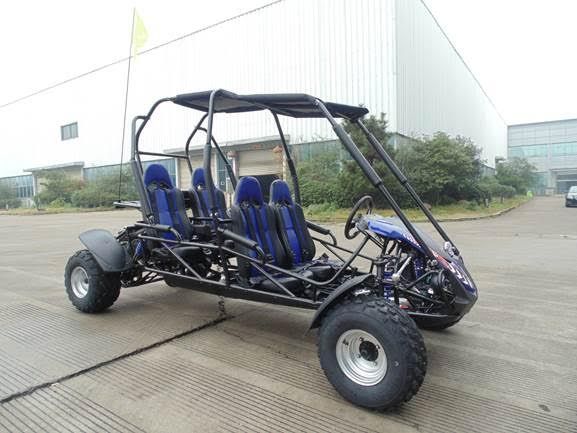 Product Videos
Custom Field
Product Reviews